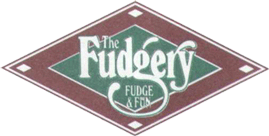 I always look forward to eating at new restaurants when on vacation, and this was no exception, but the 1 thing I really like is fudge, and in what seemed to be everywhere I turned this weekend was The Fudgery. I knew if I got this stuff, I would eat and eat it, that is 1 reason I always delay making it at home. I just cannot pass it up. The 1st day I made it but we had just had ice cream.
The 2nd day while shopping at the outlet malls (I love these!!), I decided we would buy some. We picked out 2 kinds, rocky road and vanilla, and then the girl said if you buy 1 more you get 1 free. Free, well that was good enough for me. So we ended up with vanilla, rocky road, cookies n' cream and peanut butter and chocolate mixed (chocolate on the outside with a twist of peanut butter running through the middle). We started with just a few pinches here and there and then bigger pieces, and by the time my shopping was over, I felt like I had a major sweet fix going on and oh was I thirsty. Needless to say we munched on this fudge the entire trip home. I kept wondering if a pound of fudge would make you gain a pound of weight. I was kind of worried about that as I had sure eaten a lot of this fudge. By the time we got home, no fudge left except for the Cookies n' Cream, and I think Gage sneaked it for breakfast this morning. We NEVER eat junk food for breakfast here, NEVER I SAY.
This taste of fudge only leaves me wanting to make more, but we are going to skip. I have to get these last baby pounds off, and I am almost certain this is not going to happen if I keep eating fudge.
By the way did I mention the fudge was right at 30 bucks. I think Darrell just about freaked cause I know I did when she said how much it was. I justified it by saying, you know fudge is expensive to make, and he just looked at me like, yeah right!
Teresa