This is the cake I ordered from Baskin Robbins in Louisa, Ky for Gage's B-Day Party. Isn't it lovely. Very nicely decorated. Somebody spent some time on this cake, that is for sure. This is the cake we wanted.
This is the cake we got. Isn't it ugly. Just about the ugliest cake I have ever seen from a professional so-called cake decorator.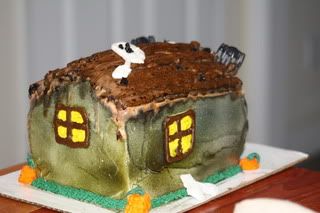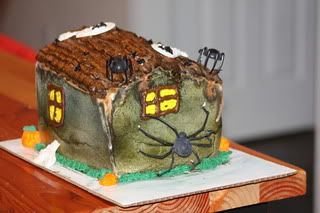 I am not sure if you can tell from the pictures but the cake was leaning and just about to fall over, and it was leaning before the 15-minute trip home. I kinda suspected this would happen. When I placed the order the girl kept asking, "Does the spider have to be on the side or can I put it on the top." I told her that did not matter, and she proceeded to tell me some lady freaked out over the spider not being on the side. I got a little worried at that point. Next thing you know the phone is ringing again, and the girl says she is the cake decorator and she is not going to be working on Saturday so she will have to get 1 of the other employees to decorate the cake. My instinct told me to just forget about the cake, but I thought surely since they all work there they can decorate this cake. And she also says she will have to charge extra for the spiders since the girl can definitely not do the spiders on the cake. I got another sickening feeling. I told her I had my own plastic spiders and I would not pay extra for spiders, again she said okay. I worked all day Saturday and Darrell picked the cake up. He was more concerned about the size and said just let it be. Let it be, this cake was 39.99, and she did put the spiders on there and not charge extra for them, probably trying to soothe over the fact the cake looks like a crap. Yep, I said it, crap. She even said the candy corn would be on the roof, well no candy corn. I have emailed Baskin Robbins about this cake, and today, I am posting it to the Cake Wrecks blog. I sure hope she accepts it. Please accept it. It deserves to be there.
Teresa
UPDATE: I had to add this. Ice cream and cake start at only 9.99, what for like 2 scoops. My cake was 39.99.