Yesterday morning while getting Aidan ready for church, I discovered he had outgrown 3 brand new, never worn, still with tags on them Ralph Lauren shirts. I did get these on sale but still paid good money for them. Looks like an Ebay listing or even perhaps here on my blog. We'll have to see. I proceeded upstairs to get another shirt, and thought maybe this 1. What if it is too big, 18 months and all. Nope, he wore it. It fit. Wow, he has grown a lot in the last 2 weeks. I guess it could be all the KFC mashed potatoes and gravy or even the soup beans he loves. No doubt about it, Aidan loves to eat. He grunts this funny little grunt in between every bit. You just can't feed him fast enough.
Needless to say after church I had to get his picture in his new shirt and jeans. He looked like a little man. Well lately all he does is try to crawl away or attempt to, or play with something next to him. He is just not having these pictures lately, so this is what we got, 1 pretty good picture, and the rest, well see for yourself.
And he is gone....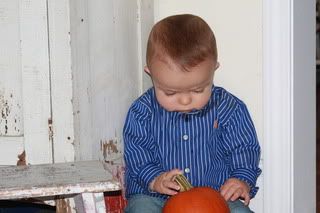 We sat him back up, gave him his pumpkin...
and he is gone again...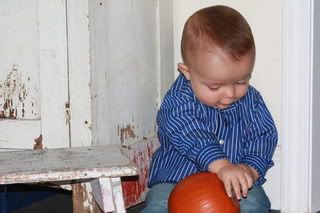 back up again with the pumpking again....
and see you later, to which Bailee is in the background just waiting for this kid to drop some good food.
Teresa