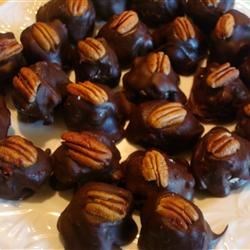 I must admit, I love these and can eat an entire box. We purchased these at Rebecca Ruth Candy and I loved them. I mean the combination of chocolate, nuts and bourbon, well who would not like them. I love the smell. Gage asked if they would make you drunk and be careful eating them while driving mom, you might get a DUI. I had to explain the entire concept of cooking with alcohol to him. Anyhoo, we all love them, and I ALWAYS pick these up when down around that area but you can get them at
http://www.rebeccaruth.com/
. Try some! By the way, we toured her factory while there, it was great. If ever in Frankfort, Ky, go by and pay them a visit.
Anyway, I have been so craving these and wanting to make these. I know when I do make these, I will probably eat these for 3 meals a day and even in between. I have been searching the web for good recipes for these, and I have come across this 1. This is the 1 I am going to make this weekend. I am posting this recipe from
http://www.allrecipes.com/
. I love this site and get many good recipes from here. I always read the reviews, and if the reviews are not good, I always pass on them.
This is the recipe they have that is rated the highest, and the 1 I have chosen to make.
INGREDIENTS
1 cup chopped nuts
5 tablespoons Kentucky bourbon
1/2 cup butter, softened
1 (16 ounce) package confectioners' sugar
18 ounces semisweet chocolate
DIRECTIONS
Place the nuts in a sealable jar. Pour the bourbon over the nuts. Seal and allow to soak overnight.
Mix the butter and sugar; fold in the soaked nuts. Form into 3/4" balls and refrigerate overnight. Line a tray with waxed paper. Melt the chocolate in the top of a double boiler over just-barely simmering water, stirring frequently and scraping down the sides with a rubber spatula to avoid scorching. Roll the balls in the melted chocolate to coat; arrange on the prepared tray. Store in refrigerator until serving.
Make for sure you use the best bourbon you can get. I have also read that crushing the nuts and soaking in bourbon in the refrigerator for about 24 hours prior to making this candy makes the bourbon taste really pop.

I hope you enjoy these.
P.S. I love these so much, knowing I could not get to Frankfort soon or even Mt. Sterling. I contemplated when the delivery guys brings my mom's trusses for her house she is building that since they are located in Mt. Sterling, he could pick me up a box of these. Do you think he would think I was crazy? Probably so.
Teresa