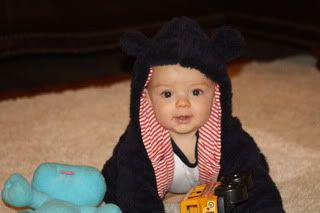 See those 2 little teeth in there. The 2 little vampire teeth are through and on the top, and it looks as though the 2 big front teeth are going to break through any day now. Wow. Give this kid a steak.
I had been searching for Aidan a new winter coat, and Voila! Perfect. I got this at Mini Boden for around 35 dollars, and I got free shipping with a coupon I found online. Always search for coupons online before ordering. Sometimes you can come across codes for so much percentage off or free shipping, and it is worth the time and effort. I love this coat, and it is adorable on him. The sleeves are a little long right now, and Darrell says since when we stand him up in this coat and he shakes his arm, that it reminds him of the brother on the movie The Christmas Story all decked out in his snowsuit. Love that movie. Too funny! By the way I love Baby Boden stuff but it is a tad bit expensive, but if you check it out, the stuff is selling on EBay for near close to what it costs new, so you could always resell it.
Most of my shopping for Aidan has been done online. It is just easier with a baby these days. Scored some wonderful deals at Macy's with clearance stuff for next summer, and got some great deals on EBay from a wonderful lady who sells a lot of Gymboree clothing, and offers free shipping. Great deal! All of this at the luxury of my fingertips. I love the Internet. What did we do without it? Have you ever asked yourself that. I pay bills, bank, buy, surf and whatever else my little heart desires. Shopping is my big thing. Did I say I like to shop? Well I do but usually not for myself, usually my kids, Darrell or even the house. I used to be a big time house stuff buyer. The Burke Boy's Mommy does love to decorate and change things up constantly in this house but lately, well lately, I just don't have the time or even the energy.
With working, helping with homework (Did I mention Gage has 3 hours of algebra this year, geesh), and taking care of Aidan, trying to keep household stuff done, it just ain't happening. Lucky for me Darrell is a big help. This week I will start a 12-day stretch of working with no days off, well I do have a doctor's appointment on Friday of this week, but I don't even consider that a day off, going to the doctor, that is like work. I tell you this is killer and I end up so behind on stuff that I literally don't know where to start. But hey, I still know I am blessed.
I came across this link today on Kelly' Korner. Please visit them and pray for them, www.bandssullivan.blogspot.com. People, I am just too lazy to link. I can't help it. She was pregnant and diagnosed with breast cancer, doing good, had the baby and then 2 days later after going home started having seizures. She was determined to be brain dead and passed away. Also, this girl who worked at my family doctor's office, Michelle Stroud, was missing, found stuffed in a refrigerator in a deserted location, and now her soon-to-be ex-husband has been charged with her murder. She leaves behind an 8-year-old little boy whom she had just dropped off at school when her car was found about a mile from the school. Why do people kill people they loved, why do they kill the mother of their child? This is beyond me. This is a tragedy and disturbs everyone in the community since this is not something we see much of. We have had murders, and they are rare, but seems like when we have them, they are pretty gruesome.
Pray for both of these families.
Teresa